PORTFOLIO
SRS have worked on a range of project across New Zealand. To get an insight into some of these projects. Link here to download our portfolio today.
Click Here
MARINE
Our marine products are centred around safety, strength and style – all with an uncompromising superyacht-standard finish.
Click Here
BLOG
Here at SRS we pride ourselves on being up to late with the latest design movements. Our blog features an insight into all of our sectors, allowing our customers to learn and gain knowledge with us.
Click Here
FOLIAGE
Customised Foliage systems and plant support systems, turn key planter and trellis solutions for the home gardener and commercial landscaper.
Click Here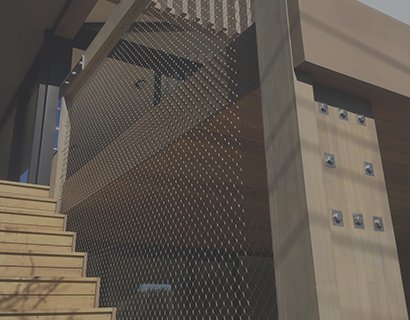 ARCHITECTURAL
Our custom-manufactured tensile mesh offers a surprising versatility across a number of architectural projects with its edgy style and unparalleled durability.
Click Here
FABRICATION
When it comes to fabrication, we take pride in what we do, and we do it well. SRS Group are known for our ability to provide the "full solution" to our customers across New Zealand, and overseas.
Click Here
NEW ZEALAND'S ONLY ARCHITECTURAL RIGGING SPECIALIST
SRS Group is proudly New Zealand's first, and only architectural rigging specialist with a strong background in all manners of rigging including balustrades, fabrication, foliage, marine and yacht rigging and more.
With over 40 years of experience we've got a great team of in-house experts who can help bring your commercial and residential concepts to life.
Find out more about our services:
BALUSTRADES AND HANDRAILS
At SRS, we understand that a combination of style and safety are paramount when designing balustrade systems for our clients. We have designed, fabricated and installed thousands of balustrades and handrailsin New Zealand for both internal and external staircases and can help guide you through the process offering you a number of tried-and-tested options.
FOLIAGE AND VERTICAL GARDENS
We provide a variety of rigging solutions for foliage, vertical garden, green wall and screen support systemsand have worked across both large scale commercial projects and smaller, custom residential features. Foliage inside the home, office or on the exterior of building areas offer a multitude of benefits far exceeding the obvious aesthetics. These include cleaner air, encouraging biodiversity in urban areas and even sound and/or weather proofing.
METAL FABRICATION
Our service portfolio is diverse and in addition to rigging, we offer professional metal fabrication servicesfrom sheet metal, stainless steel, mild steel, aluminium and more through our experienced onsite team. From small parts and marine fabrication to custom design for your home or office – our experience and vision can bring your ideas to life.
REINFORCING MESH AND MESH FENCING
Our rigging expertise also extends to use with architectural tensile meshwhich can be used for a number of applications like mesh fencing and safety barriers enclosures and playgrounds. When you need a view-friendly way to keep people, animals or vehicles in or out of a space, we can assist with a structure just right for you.
TENSION RODS AND SUSPENSION CABLES
If you require stainless steel cable manufacturing and cordage splicing servicesthen we are your one-stop shop. Or should you have a need to hang or suspend anything we can recommend, supply and install a range of tension rods and suspension cablesto fit your individual need.
TRUSTED BY THE BEST
We are proud to list our past clients as Auckland City Council, Fletchers, Downer, Hawkins, Fulton Hogan, Jasmax, Isthmus (to name a few) and we've designed, fabricated and installed projects throughout New Zealand and Australia. Our mobile rigging workshopmeans we can bring the tools of our trade to any worksite, wherever our clients are – in New Zealand or afar.
Whether you're a DIY home enthusiast, architect or represent a civil engineering company we'll be able provide solutions through a full range of consultancy, design, fabrication and installation services. No job is too big or small so contact usabout your residential and commercial projects today!