Which metals do we use in our custom metal fabrication work?
SRS is one of New Zealand's leading high-end custom metal fabricators and we use a variety of metals to create both practical and beautiful custom metal works. We are one of the only companies in New Zealand to offer a bespoke end-to-end service when it comes to metal fabrication and we work with a range of metals to meet the needs of our customers.
What is metal fabrication?
Metal fabrication is the process of cutting, moulding or shaping raw or semi-finished metal to create an end product – rather than assembling it from ready-made components.
All our metal fabrication jobs are bespoke, and the process will depend on the metal selected as well as the desired end product.
The metals we use are hand-selected to fit the job, meaning no two jobs are the same. We work closely with our customers to select the best metals to meet their needs, both in terms of the shaping but also the overall finish.
You can read more about our metal fabrication services including a detailed look at our processes and some great examples of our work over on our Fabrication page.
The metals we use in our fabrication
Our specialised fabrication division is experienced in welding, cutting, bending, forming, and machining our products to deliver stylish, functional bespoke fabrication creations.
Over the past four years, SRS Group has brought several complicated fabrication concepts to life, predominantly utilising mild steel, aluminium, corten and stainless steel, but also occasionally the likes of brass and copper.
Here's a breakdown of the materials we use in our custom metal fabrication work:
Stainless Steel
Stainless steel is composed of carbon steel, aluminium, chromium, and other elements that combine to form a highly corrosion-resistant metal. Stainless steel is known for its distinctive polished silver mirror coating. It is lustrous, brittle and does not tarnish in air. The myriad applications of stainless steel include surgical instruments, cookware, appliances, metal ceramics, cabinet fittings and collectables.
Stainless steel comes in a variety of grades which can be used for a variety of metal fabrication jobs. You can read more about the different grades of stainless steel in our recent blog.
Mild Steel
Sometimes referred to as carbon steel, mild steel can be fabricated to a variety of hardness levels depending on the amount of carbon used. As the quantity of carbon rises the strength of the steel increases but the ductility, machinability, and melting point of the material decreases. Mild steel also has a high amount of iron and ferrite, making it magnetic.
The lack of alloying elements such as those found in stainless steels means that the iron in mild steel is subject to oxidation (rust) if not properly coated. But the negligible number of alloying elements also helps mild steel to be relatively affordable when compared with other steels.
Aluminium
Aluminium is lightweight, durable, and versatile with good thermal and electrical conductivity. Aluminium does not perform well at temperatures higher than 400 degrees Fahrenheit, but excels at sub-zero temperatures, making it ideal for low-temperature applications like refrigeration and aeronautics. Its resistance to corrosion also leads to its use in food and chemical handling (cookware, pressure vessels, etc.) and to architectural uses.
Corten Steel
Corten steel (sometimes known as weathered steel) is a group of steel alloys that are often used in outdoor construction. Corten Steel was designed to eliminate the need for painting and if left outside, exposed to the elements, they will develop a rusted appearance in just a few months.
Aesthetically pleasing to the eye, this finish has become popular with many high profile architects and has been specified and used in a variety of applications in including building fascias, architectural sculptures and bridges. Corten steel has been used on some famous structures around the world including the Angel of the North in the UK and the Centre for Contemporary Art in Australia.
Brass
Brass is composed of copper and zinc. It is often used for nuts, bolts, pipe fitting, doorknobs, furniture trim, clock components and much more. Its acoustic properties make it an ideal alloy for casting musical instruments.
As well as being extremely popular for musical instruments, brass is commonly used as a decorative metal because of its resemblance to gold. It is also germicidal which means it can kill microorganisms on contact.
It is a metal that is used less frequently by our metal fabricators; however, it presents some interesting opportunities across a wide range of applications and is certainly something we consider for specific jobs.
Copper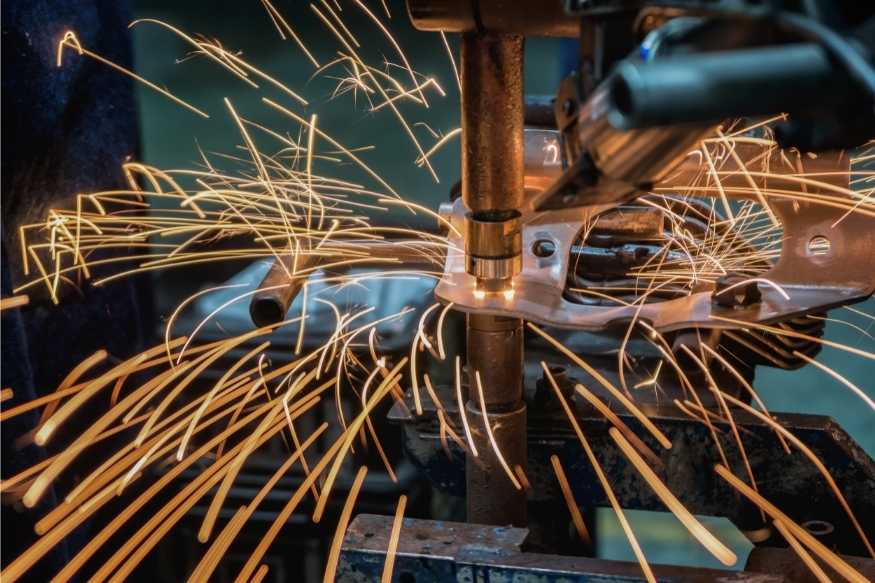 Copper is an impeccable conductor of electricity. It is tough, ductile, malleable, and resistant to corrosion in many atmospheres, which makes it useful in marine and industrial environments. Other common uses include coins, plumbing, musical instruments, locks, hinges, and electrical connectors.
Small amounts of alloying elements are often added to copper to improve certain characteristics. Alloying can increase or reduce the strength, hardness, electrical and thermal conductivity, corrosion resistance, or change the colour. Common primary alloying elements include tin (resulting in bronze) or zinc (resulting in brass). This presents the team with some great options when creating bespoke metal pieces.